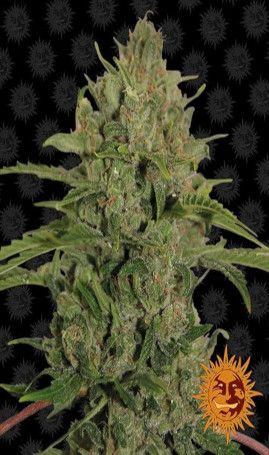 Blue Cheese Revamped
A cross of Blue Cheese and Original Cheese... can you think of anything better than that? No? Me neither. Expect that classic cheesy stank from this award winning Triple Cheese
High Yields: 600gr/m2
High THC content: 22%
Rapid Flowering: 55 - 60 Days
Medical: 1 - 5% CBD
https://www.killabeez-seedbank.co.uk/triple-cheese.html
A cross of Blue Cheese and Original Cheese... can you think of anything better than that? No? Me neither. Expect that classic cheesy stank from this award winning Triple Cheese
High Yields: 600gr/m2
High THC content: 22%
Rapid Flowering: 55 - 60 Days
Medical: 1 - 5% CBD
Triple Cheese is, like her ancestors, an absolute favourite in the cannabis community. Can anybody boast better parentage than Blue Cheese and Original Cheese(Skunk #1 phenotype)? This cannabis seed is an award winning powerhouse with a cheesey stank. In terms of the high, you probably know what to expect from a plant with such famous parents, but with Triple Cheese expect even better! It produces a long lasting body high certain to leave you satisfied. To make it even better, she comes loaded with 1 - 5% CBD.
Growing up to a moderate 90 - 100cm, Triple Cheese is a plant well suited to all but the smallest grows. Flowering in 55 - 60 days, you wouldn't even know you had planted it before you find 600 grams of stankey bud spilling from your cupboard.
Award Winning
Stinky, Cheesy Buds
Medical
100% Feminised
While this stinky bud carries the weight of famous parents on her back, she's not stuck in the past. Triple Cheese brings her own, unique, dank and pungent characteristics to the party, and is a legend in her own right.
Cheese, Gromit?
N.B Germination of cannabis seeds is illegal in the UK and prohibited by Killabeez.
| | |
| --- | --- |
| Cannabis Genetics | Old Cheese x Blue Cheese |
| Variety | Mostly Sativa |
| Flowering Type | Photoperiod |
| Sex | Feminised |
| THC | High |
| | |
| --- | --- |
| Yield | High |
| Height Notes | 100cm |
| Grows | Greenhouse,Grows indoors,Grows outdoors |
| Flowering Time | 50 - 55 Days |
| Effect | Tingly Arousal, Body High, Long Lasting |
Free Seeds
Every order you make at KillaBeez will include a generous selection of free, brand-name, 100% feminized cannabis seeds carefully selected for their performance and robust features. Some may be autoflowering, some may contain astronomical THC levels and some may just taste amazing. To make sure frequent shoppers never get bored, we change up the selection on the regular. Curious about what's on today's menu? Our free seeds page always has the latest updates.
Price Match
The KillaBeez team goes above & beyond to make sure our seeds are of the highest quality and the lowest prices. However, not even we can be perfect all the time. If another seedbank has the exact same item on their site for less, we'll match their price. Already ordered? No worries! Just let us know within 30 days of your order date & we'll take care of it. How's that for peace of mind?
Returns
Order a pack that's not quite to your fancy? Contact your friendly seed specialist within 30 days of placing your order at KillaBeez SeedBank and they'll be happy to give you a return authorization so you can send them back for an exchange or full refund. All returned seeds must be shipped back using trackable mail and in the same condition they were received. Please include the RA number, original order number, reason for return and your contact information. We'll process your return within 3 days of receipt, but refunds can take longer depending on your original payment method.